Magical Ruby
(マジカルルビー,

?

)
is the
Kaleidostick
partner of
Illyasviel von Einzbern
in
Fate/kaleid liner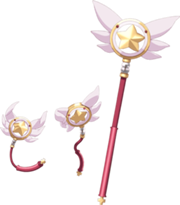 PRISMA☆ILLYA
.
Appearance
Edit
Personality
Edit
Ruby is a sadistic Mystic Code that hates its Creator and likes to tease and annoy it's user/master . Aside from it's sadistic traits, Ruby can be exeptionally loyal to its master; especially Illya
Background
Edit
A Kaleidostick, a magical device that enables its user to become a magical girl. Though Ruby initially belongs to Rin, Rin's constant squabbling with Luvia causes Ruby to abandon Rin and contract itself to Illya instead. Ruby is Sapphire's older sister.
Fate/Kaleid Liner Prisma Illya
Edit
Abilities
Edit
As a 'Second Magic' Mystic Code, Ruby can access the Mana Plane and provide it's user/master unlimited Prana. Ruby also has the ability to Include cards.
Relationships
Edit
Illyasviel von Einzbern
Edit
Luviusgeltia Edelfelt
Edit
Miyu Edelfelt
Edit
Magical Ruby
Edit
Rin Tohsaka
Edit